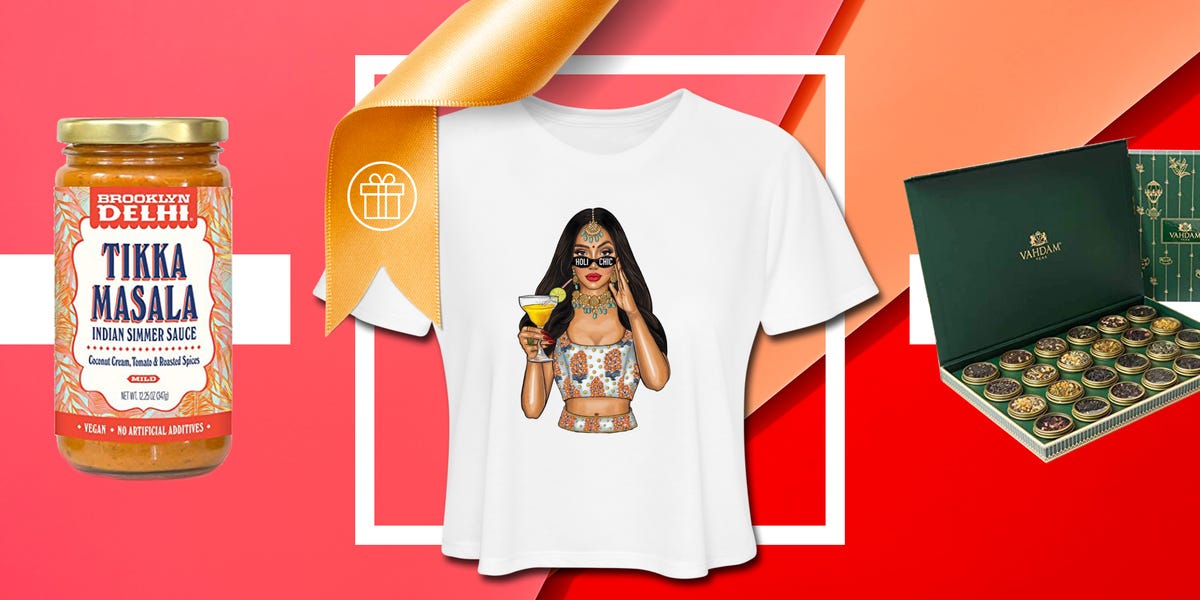 21 Presents To Give Friends And Family
Whether your knowledge of Diwali extends to that episode of The Office or you've actually been celebrating it your entire life, you know that it's by far the biggest annual holiday for Hindus, Sikhs, Jains, and some Buddhists all over the world. But in case you missed it, Diwali is a festival of lights. Every year, in the cities in which the holiday is celebrated, people fill their homes and patios with candles and twinkle lights—if it's something you have yet to see, it should definitely be on your travel bucket list.
The true meaning of the holiday is all about the triumph of good over evil. People celebrate to bring abundance and positivity in to their lives. Part of that abundance means opportunity, time with loved ones, and good health. But, I'd be lying if I didn't say that a very fun part of it is also buying (and receiving) gifts from loved ones.
Typical gifts include Indian desserts like ladoos, candle holders, and sets of plates. But, let's be honest. Your mom can buy desserts for herself, and your cousin doesn't need any more plates. See below for unique, fun gifts your loved ones will actually use—from a mango lassi candle (yup, that exists) to a Bollywood movie poster, some Bollywood dance classes, and even some luxe items for the beauty lover in your life. (Pro tip: You can even send this to your fam as your Diwali wish list.)
And while you're at it, grab a few items for yourself—you deserve that abundance too, right?
Advertisement – Continue Reading Below
1
Best Gift For The Traveler
Travel Size Ritual Discovery Set
AAVRANI
amazon.com
$59.00
You know that person who's currently making up for all the traveling they couldn't do in the past year? They'll love this travel-ready set of clean skincare essentials. It comes in a gift-ready package, too. 
2
Best For The Book Lover
Is Everyone Hanging Out Without Me?
Three Rivers Press
amazon.com
Mindy Kaling's hilarious biography is a must-read for every book lover, but there are some touching, raw moments that are super relatable for anyone who is a second-generation immigrant with Indian parents.
3
Best For The Bollywood Lover
Kuch Kuch Hota Hai Poster
YuFeng Art
amazon.com
$12.00
ICYMI, this is one of the most iconic Bollywood movies for every millennial. It's a must-have for the person who re-watches it at least every couple of months (just me?).
4
Best For The Clean Beauty Lover
The Beauty Oil
Sahajan The Science Of Intuition
amazon.com
$65.00
So many of us can relate to growing up in a family in which someone was always putting together their own oil-based beauty elixirs. Sahajan bottles that up in their cult-favorite beauty oil. 
Technically, it's made to be used on the face and neck, but it has a heavenly frankincense scent that I love dousing my whole body in.
5
Best For The Wannabe Chef
Tikka Masala Simmer Sauce
Brooklyn Delhi
amazon.com
$11.74
Your cousin who never learned how to cook needs this Tikka Masala simmer sauce. It's creamy, tangy, spicy, and even plant-based (and probably way healthier than that takeout they keep ordering).
6
Best For The College Student
Dal Variety 10-Pack
Maya Kaimal Foods
amazon.com
$21.00
Okay, so maybe they don't even have a kitchen to work with, but they're constantly calling home to complain about dining hall food. Maya Kaimal's expertly-crafted microwaveable packs are a delicious must-have. They'll love having these on standby for those late-night study sessions, too.
7
Best For Your Father Figure
Insulated, Sweat Proof Tea Mug
Personally, I've never known a South Asian dad who's said no to a cup of chai. Gift the father figure in your life this adorable mug along with Vadham's set of teas (they're one of Oprah's Favorite Things!). 
8
Best For The Makeup Lover
Conceal And Conquer
Natasha Moor
macys.com
$77.00
It's no secret that us brown-skinned beauties are genetically predisposed to dark eye circles. For that reason, makeup artist Natasha Moor put together this genius color-correcting set that the beauty product lover in your life will definitely be adding to their regular rotation.
9
Best For The Blowout Lover
Smooth Round Bristle Brush
RAINCRY
amazon.com
$63.00
Founded by Faisal Qureshi (the person responsible for many of the red carpet hair looks you've admired over the years), Raincry's round bristle brush is specifically designed to make blowouts look shinier, smoother, and healthier than ever.
10
Best For The Loungewear Lover
The Jumpsuit
Samara
samarabags.com
$108.00
Your sister's probably been wearing the same old sweats for the past year, so what better than to gift her this luxe jumpsuit from sister-founded brand Samara? Bonus: This sustainable 'fit was a winner of one of our Healthy Sleep Awards this year!
11
Best For The Family Chef
The Artist Capsule
Brightland
brightland.co
$115.00
Isn't it time you contributed to all those meals the chef in your life has been making you your whole life? They'll love Brightland's infused olive oils—this set features lemon, basil, and chili. It adds a scrumptious depth of flavor to any dish. 
12
Best For The Clean Haircare Lover
Neem Comb And Prewash Duo Set
Shaz And Kiks
shazandkiks.com
$75.00
South Asians are renowned for their thick, gorgeous hair for a reason—they take their haircare very seriously. This traditional neem comb and jasmine-scented prewash hair mask is a serious game-changer for the person who just doesn't have the time or patience to regularly oil their hair.
13
Best For The Fashion Lover
Margarita Saree Blouse T-Shirt
Holichic By Megha
holichicbymegha.com
$44.00
Okay, your cool single aunt needs this t-shirt showing a girl sipping a marg in a saree blouse. If that's not totally their jam, they absolutely need this tee repping the South Asian community's favorite woman to brag about—Vice President Kamala Harris, lovingly dubbed by some as "Kamala Aunty." 
14
Best For The Chai Time Lover
Traditional Chai Care Package
The Chai Box
thechaibox.com
$40.00
Chai time doesn't get more authentic than the flavorful blends crafted by The Chai Box. This beautifully-packaged set comes with two classic blends, a steeper, Parle-G biscuits (IYKYK), and some coconut biscuits. And since you were kind enough to gift this to someone, they have to share.
15
Best For The Bollywood Celeb-Obsessed
Amrutini Essentials
Love, Indus
loveindus.com
$185.00
If you've ever wondered how celebs Sushmita Sen and Dia Mirza have kept their skin looking flawless over the decades, this is their secret. As someone who tests a lot of skincare products, I can attest to the fact that I wake up with uber glowy skin every time I use the Amrutini moisturizer at night.
16
Best For The Germaphobe
ALSO Moisturizer & Sanitizer
Journ
ourjourn.com
$22.00
I never thought that the words "luxe" and "hand sanitizer" could be used in the same sentence, but Journ's chic new launch completely defies that. Nobody has more dry, cracked hands than a germaphobe right now—they'll love the elegant packaging on this sanitizer that has the feel of a designer product. It makes a great addition to any gift.
17
Best For The Makeup Minimalist
Huestick In Origin
Live Tinted
Live Tinted
$24.00
From well-loved influencer-turned-CEO Deepica Mutyala, LiveTinted was specifically founded for busy makeup lovers of color. Not only does this chic huestick look great in any purse, it works on the cheeks, lips, and eyes for a full face of makeup on-the-go. 
(This shade is a great choice for a bold Diwali look, but I'm a sucker for the shimmery bronze shade on my brown skin—it's like a portable golden hour in a stick.)
18
Best For The Beard-Obsessed
Overnight Oil Elixir
Khalm
khalmskincare.com
$185.00
Sick and tired of your brother complaining about his itchy beard? This intensely hydrating luxury oil calms redness, making skin (and hair) softer than ever. It smells amazing, too—their partner will thank you.
19
Best For The Resident Ayurvedic Expert
The Collection
Soma Ayurveidc
somayurvedic.com
$250.00
Most every family nowadays has a self-proclaimed Ayurvedic expert, and that person will seriously appreciate the mindfulness with which Arjun Sampath of Soma Ayurvedic curates ingredients for the brand's under-eye gel, vitamin C serum, and anti-aging cream. 
The ingredients list on everything is pristine, and now their skin will be, too.
20
Best For The One With A Sweet Tooh
Mango Lassi Jar
Scrumptious Wicks
scrumptiouswicks.com
$29.00
No, your eyes aren't deceiving you. This mango lassi-scented candle will easily transport them to their days sipping juicy, refreshing lassi on their grandmother's patio during humid summers in India.
21
Best For Puzzle Lovers
Rangoli Mandala Circular Floor Puzzle
Kulture Khazana
myshopify.com
$29.99
Remember all those puzzles you did in the past year? If your family has missed bonding over them, this rangoli-shaped puzzle is bound to bring out the fun, festive spirit in you. (Rangoli is a traditional folk art often done around Diwali!)
This content is created and maintained by a third party, and imported onto this page to help users provide their email addresses. You may be able to find more information about this and similar content at piano.io
Advertisement – Continue Reading Below