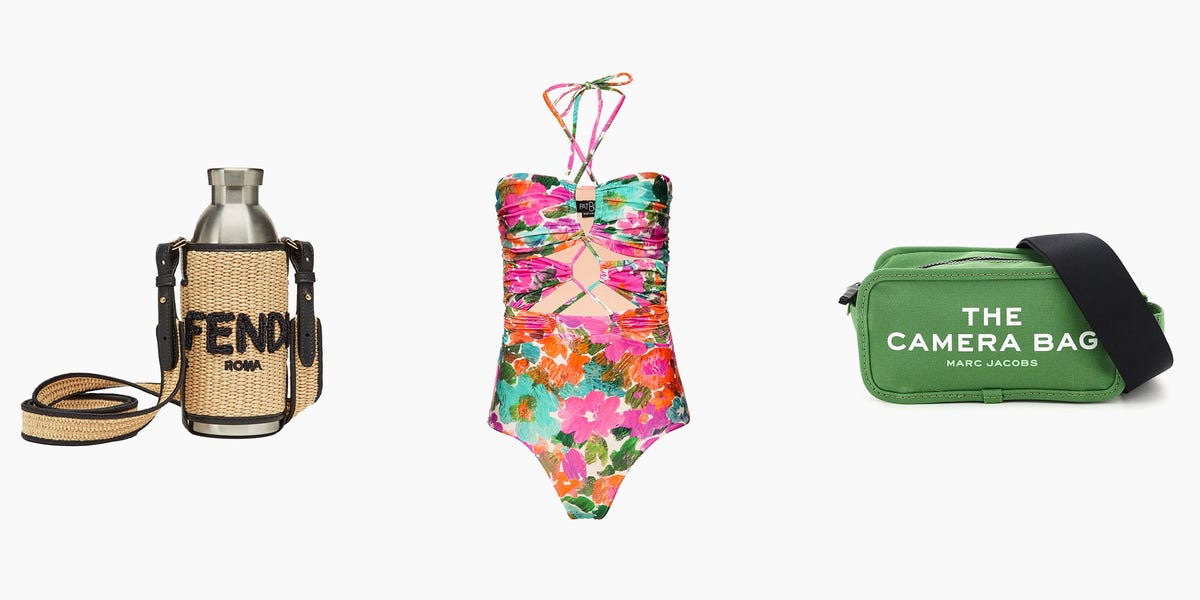 30 Gift Ideas for People Who Miss Traveling
Fit Hair Dryer
This packable and powerful hair dryer outperforms anything the hotel could provide. 
Gabi Laceup One Piece
A new bathing suit is basically a prerequisite for planning a vacation. 
Kindle Paperwhite
Amazon
amazon.com
$129.99
An e-reader is the perfect (not to mention lightweight) choice for your favorite bookworm. 
Aviator
Paravel
tourparavel.com
$255.00
Round-Toe Calf-Hair Mules
Marni
farfetch.com
$790.00
Mules are the ultimate airport shoes. Just add socks. 
Versace
versace
sunglasshut.com
$511.00
Are they prone to losing sunglasses? Then they'll definitely appreciate the chain on this pair. 
The Store & Go Case
Prive Reveaux
priverevaux.com
$34.95
There's no need to limit the number of sunglasses when they have this compact case. 
Linen Blend Short-Sleeve Shirt
No matter the weather report, this linen-blend shirt will go with everything in their suitcase. 
Turnlock Backpack
When it comes to personal items, backpacks > totes. There, we said it. 
UO Printed Wide Brim Bucket Hat
Urban Outfitters
urbanoutfitters.com
$26.00
Whether they're city-bound or off to a tropical location, this bucket hat can work double duty.
The ReNew Transit Weekender
Everlane
everlane.com
$88.00
This chic weekender makes traveling last-minute infinitely easier. 
Lin jacquard-knit maxi dress
Dodo Bar Or
net-a-porter.com
$700.00
If your giftee hasn't booked their beach getaway yet, this dress will encourage them further. 
Pure Silk Sleep Mask
Slip
saksfifthavenue.com
$50.00
Just in case the kid in 19A leaves the window up on a red-eye. 
The Camera Bag
Sometimes a vacation calls for a proper camera. 
Coco Mademoiselle Eau de Parfum Intense Twist & Spray Set
CHANEL
sephora.com
$80.00
High Waist Moto 7/8 Leggings
Alo
nordstrom.com
$114.00
Leggings on planes is an absolute must.
Farewell Frizz Control + Repair Hair Travel Kit
Briogeo
sephora.com
$25.00
Shifting humidities can cause a hair nightmare. Give them this to fight the frizz. 
Small Travel Jewelry Case
travel
markandgraham.com
$69.00
They'll never pack their rings in a ziplock baggie again!
Departure Travel Kit
Aesop
nordstrom.com
$53.00
This gift set fulfills all your traveling needs with hand soap, toothpaste, mouthwash, and more.
Passport Bolo
Trust us, a leather passport holder is living. 
Flight 001 4-in-1 Adapter
Flight 001
amazon.com
$24.00
Rifling through your suitcase for a travel adapter just got seamless thanks to this technicolor dream device.
Twist Memory Foam Travel Pillow
Dot&Dot
amazon.com
$24.99
A good neck pillow, i.e. the one you didn't buy in the airport gift shop, is a total game-changer.  
RFID-Blocking 4-Zip Leather Travel Organizer
ROYCE New York
saksfifthavenue.com
$125.00
This luxe wallet is made with a special silk lining embedded with RFID-blocking technology, meaning your identity is safe. 
Cropped Organic Denim Jacket
Prada
prada.com
$1,450.00
A denim jacket is a no-brainer item to pack, but upgrade them to Prada and you'll see it all over their Instagram Stories. 
Roo Double Camping Hammock
KAMMOK
amazon.com
Sitting in a hammock instantly puts you in vacation mode.  
PowerCore Portable Charger
Let's be real, there is no such thing as too much charge.  
Noise Cancelling Headphones
Airpods are great, but noise-canceling, over-ear headphones are necessary for planes. 
Bottle Holder
This is what staying hydrated in Capri looks like. 
Water Bottle
Glossier
glossier.com
$15.00
If a Fendi water bottle isn't in your budget—we don't blame you—opt for this sweet option by Glossier. 
Nyma's Coral Lip Set
Dose
doseofcolors.com
$49.00
If you can only bring one makeup product with you, make it a lipstick (or this sleek set).
This content is created and maintained by a third party, and imported onto this page to help users provide their email addresses. You may be able to find more information about this and similar content at piano.io