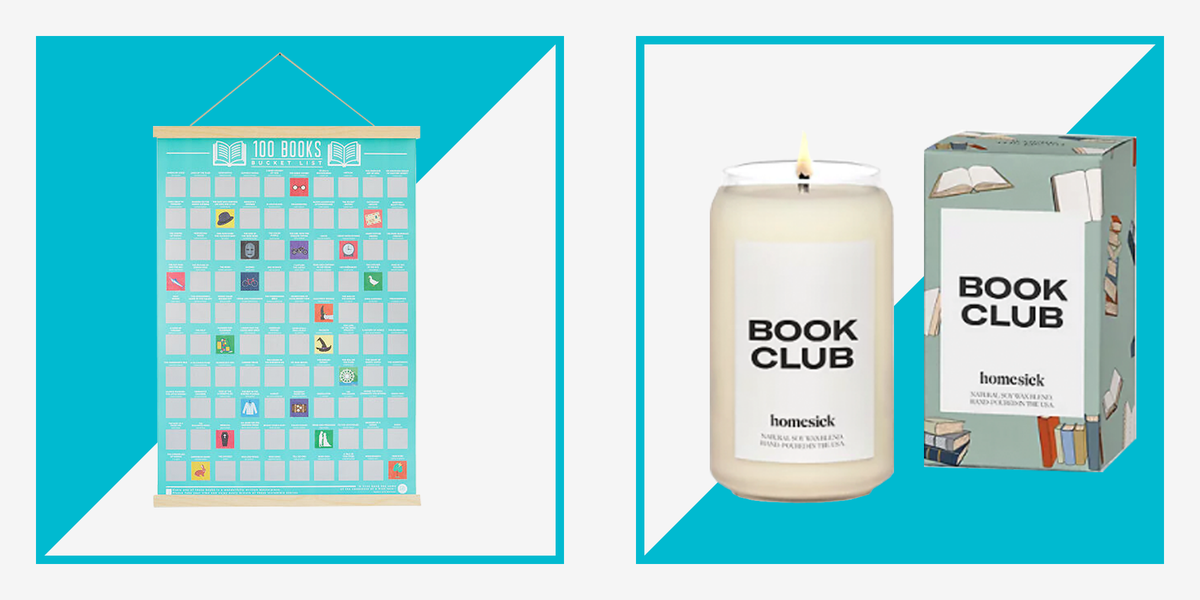 The 55 Best Gifts for Book Lovers in 2021
Let's be honest: Finding gifts for people is really hard. And depending on the person's hobby, there's an added level of difficulty. After all, book lovers can simply head to their local library or bookstore for a new read, immersing themselves in worlds as gripping as the newest trending TV show. And trust us, they (probably) have enough bookmarks.
Whether your favorite bookworm gets their kicks from audiobooks, e-books or paperbound literature, there's a gift for every type of reader out there if you know where to look. Lucky for you, we did the searching so you don't have to. We've managed to find the best gifts for book lovers, including gifts that aren't books (because you know they already have a growing collection). Even better, there are book gifts for readers of every genre and age, from comic book nerds to fantasy-loving tweens.
Literary lovers like to have a calm, quiet atmosphere when they're reading. A candle, a bubble bath or maybe a pair of nice socks can make reading a good book an even cozier experience. Plus, no matter what time of day it is, readers are going to read. That means they'll need a light for when it gets dark—or maybe to just ditch the physical book and go for an e-reader that'll never fade to black. A Kindle, maybe?
No matter how they prefer to read, there's a gift out there for the die-hard readers in your circle. These gifts can even work for the person who's eager to get into reading but doesn't know where to start. And if you really want to get a bookmark or more books, don't worry—we have those too.
Classic Literature Rocks Glass
For anyone who likes a drink with their book (or a book with their drink), get this rocks glass. After a hard day, it's the perfect book-related gift to wind down and open up your favorite read. The glass also has options for Ulysses, Moby Dick, and Quixote.
Wild Iris Co. Reading Passport
Not everyone wants to track their books in an Excel sheet or on a website. For those who want a personal copy of what they've read (and what they want to read), this Reading Passport is a great gift. It's passport size, so it's easy to carry, and comes with quote pages when your favorite book isn't nearby and you want to remember a poetic sentence on the go.
Novel Tea Book Tins
Have someone who loves a cup of tea with their book? You're in luck: Each of these teas is based on a literary classic, with names based on their literary inspirations. Brew a cup of Matcha Do About Nothing, The Picture of Earl Grey, Pekoe Pan, or War and Peach and give someone the perfect option for their reading sessions.
Cutting Boredom Solid Wood Book Shape Coasters
These reclaimed wood coasters have a special literary twist on them. With up to 15 different book-inspired coasters, there's enough for someone to have one for them and a whole book club worth of friends. They all feature punny names like Moby Drink, Drinkula, and Old Man and the Tea.
Make Em Laugh Just One More Chapter Glass Coffee Mug
For someone who can't seem to put their book down, this glass mug will remind them how much time has passed. Morning or night, a reader can get their morning dose of caffeine or a nighttime drink of relaxing tea while reading a book.
KLUBI 12 Oz Wine Tumbler
This wine tumbler comes in both pink and purple and has a spill-resistant lid so you'll never get wine all over a book's pages. It also has double-wall vacuum insulation to keep a drink warm or cool, so you don't have to use it exclusively for wine.
The Trini Gee African American Writers Tote Bag
For your friend who's constantly stuck on what to read next, this tote bag from Black-owned business The Trini Gee is the answer. It's stylish, functional and covered by numerous celebrated African-American authors with enough books to make a 'To Be Read' pile set for years. Your well-read friend is about to become a lot more, uh, well-read.
100 Books Scratch Off Poster
Give someone the gift of classic literature this holiday season. With this scratch-off poster, they can read 100 great books and keep track. Plus, when they're all done, it'll be a cool poster to frame and celebrate their accomplishment. It's also perfect for someone looking to get into reading for the first time and needs a place to start.
The Book Seat Book Holder and Travel Pillow
This book seat will keep your book open at the right page. But when you're not reading it also doubles as a travel pillow. It's the perfect functional item to take on the go while keeping up with your yearly book goal. 
Unisex Cotton Novelty Socks
Don't let your friend get cold doing all that reading. These book-themed socks are the perfect gift under $10 for a book lover. It could serve as a stocking stuffer, a nice office gift, or just something small for someone special.
Energizer Clip on Book Light
Just because the sun goes down doesn't mean the reading has to end. This clip-on book light stays working for up to 25 hours. Plus, it boasts a bright enough light to see the words on the page (or tablet screen), while small enough not to annoy someone sleeping next to you. If you're looking for a unique but useful gift for book lovers, this is it. 
KLigg 3 Pack Bookmarks
This Black-owned Etsy store has a three-pack of bookmarks so a reader can remember what page they're on. Plus, with fantastic art like this, they'll never want to lose these page markers. These bright, colorful bookmarks will make any other readers in your life jealous.
Bevvee Funny Book Club Stemless Wine Glass Gift
This hand-engraved wine glass is a fun, punny gift, which is sure to will make your book club buddies giggle. Plus, it's affordable enough to pair with a book as the perfect double present.
Reading Woman Accessory Pouch
thetrinigee
etsy.com
$20.90
Trust, when your friend isn't reading, all they want to be doing is reading. Remind them of their favorite hobby with this accessory pouch from a Black-owned business. It's perfect for keeping pens and pencils in, especially if they're one of those people who annotate books or journals.
Vekkia Rechargeable 4 LED Neck Reading Light
Whether you're reading a book in physical form or on a tablet, this neck reading light will brighten up the words. It has three brightness levels and can be used for up to 40 hours without needing to be recharged. It's lightweight and comfortable for someone who'll wear it for hours.
Homesick Scented Candle, Book Club
This soy-wax candle blend is perfect for a rainy day read. The scent includes sandalwood, nutmeg, orange, and amber. With a 60- to 80- hour burn time, a reader can enjoy a lot of books while smelling this calming candle. It's a great gift for a book lover that's not a book and will have them ready to read every time they light it. 
Ecolution Original Microwave Micro-Pop Popcorn Popper
All that reading can make you hungry. This small popcorn maker is a great way to refuel from a long reading session. Simply put your popcorn of choice into the container, place it in the microwave for 3 minutes or less, and enjoy. And with a perforated lid, you can melt butter over top as steam rises from the hot popcorn. Yum!
Librarian and Book Lover Gifts Library Due Date Pillow
Even when you're not at the library, feel like you're there with this double-sided pillow. Readers can show off their favorite hobby in their home as furniture or use it as a comfortable pillow to prop themselves up when reading.
Marvel Ultimate Periodic Table Of Elements Graphic T-Shirt
Who said comic book readers aren't real readers? Whether you read graphic novels, comic books, or 1,000 page epics, you should have the perfect accessory for your hobby. This Marvel periodic table groups together some of the most well-known comic book characters in the MCU. 
Brix Chocolate Collection 4 Flavor Gift Set
It may look like a book, but these chocolates are just packaged perfectly for an avid reader who loves sweets. The gift includes four bars of chocolate, including extra dark, medium dark, smooth dark, and milk. Don't worry, we won't tell if you order one for yourself too.
Shelftify White Flowers Book Sleeve
Keep books safe with this stylish book sleeve. The sleeve comes in two sizes, grande (10.5 by 8.5 inches) and whopper (12 by 10 inches). It also includes an extra pouch for a notebook, pen, or anything else you want to keep near what you're currently reading. It's a unique gift your book lovers won't expect.
Out of Print Library Card Tote Bag
Books can get heavy, but this stylish tote makes it easier to carry them all. The bag also features an inner pocket for any smaller items. And when you purchase it, you can feel good knowing that every tote helps fund literacy programs around the world.
Lastword Bookmark with Greeting Cards & Envelope
If you're looking for a small gift for a book lover under $10, this is it. A greeting card, bookmark, and an envelope for only $8.99. The three-item package comes in blue, green, and red. With these gifts, a book lover can keep part of the gift for themselves, and share the rest with another reader. 
Running Press Adult Tequila Mockingbird: Cocktails with a Literary Twist
For anyone who likes a strong drink, they'll love this book of literary cocktails. Along with a recipe, the book also includes facts about each book mentioned. Some of the recipes are The Picture of Dorian Grey Goose, The Last of the Mojitos, and Are You There God? It's Me, Margarita, so you know any book lover will get a kick out of this.
First Edition Book Cover Art Print
Instead of buying someone a classic book they probably already have, how about a poster featuring. its first edition cover? It's the perfect piece of artwork for all readers, no matter their age. There are book covers for everyone, including Little Women, Black Beauty, Frankenstein and The Adventures of Sherlock Holmes.
Peter Pauper Press The Book Lover's Journal
This reading organizer comes in both spiral-bound and hardcover versions. Inside, it features a reading wishlist, a book log for what you're currently reading, and even a space to list your book club friends. Plus, you'll never lose a book again with its section of what books you've lent, borrowed, and given away.
904 Custom From the Library of Script Stamp
Treat your impressive collection like a big library with this personalized stamp. It comes as a self-inking or wooden hand stamp, and for an additional cost you can order an ink pad. They come in various colors including black, blue, gold and pink. Everyone who borrows a book will know exactly who it belongs to.
Chronicle Books Bibliophile Ceramic Vase: Collected Curiosities
Books create new worlds, and with these book vases, you can grow new plants. You can also use it to keep pens and pencils, or any other small items. The vase features a quote from Louisa May Alcott on the back to complete the look.
Postcards from Penguin: One Hundred Book Covers in One Box
Travel around the world and send these fun postcards of Penguin Classics. Featuring one hundred book covers, each card follows the distinctive Penguin style. When sharing these, you'll not only give people a memorable postcard, but also another book for them to read. For another unique gift idea? You can take them all and frame them.
Laurence King Publishing Genius Writers Playing Cards
Play cards with the greats—great literary writers, that is. This standard deck of cards replaces the common design with 54 writers from the last 100 years. Critically acclaimed writers including James Joyce, Zadie Smith, Thomas Pynchon, and Lydia Davis have their likeness contained in the deck.  
Crate Joy Call Number
This quarterly book subscription highlights contemporary Black literature. If you get the complete subscription, each shipment also includes 2 to 4 items related to the book. Readers can choose from four different subscriptions: fiction, nonfiction, YA, and indie. Past boxes also have bookmarks, pins, journals and more. (It's also a Black-owned business!)
Workman Publishing Company '1,000 Books to Read Before You Die: A Life-Changing List'
With this book, you'll always have something to read. Nearly four thousand authors are included in the book's lists, like Offbeat Escapes, or A Long Climb, But What a View. It's detailed too, with specifics down to which edition of a book to get. There's enough literary fiction, science-fiction, children's books, and non-fiction to keep you reading for a lifetime.
Olden Designs Library Card Ornaments
When the holidays come, celebrate reading with these library card ornaments. Featuring classic literature, customers can also choose a custom date for their gifts. These are great to hang on a Christmas tree, or maybe an inventive way to decorate your home or office. Some of the books available for the ornaments include Goodnight Moon, Hitchhiker's Guide to the Galaxy, Where the Wild Things Are, and The Great Gatsby. 
Amazon Kindle
Not everyone wants to read on physical paper. Give someone the gift of electronic books with an Amazon Kindle. It comes in both white and black, and can even have three months of Kindle Unlimited added on when you first purchase. The tablet screen is as bright as real paper, even in the sun's glare, so it's easy on the eyes. Plus, it has 8GB of storage, so you know they'll be able to have all their favorites with them at any time.
Literature Candle
Ever wondered what your favorite classic smells like? Now you can find out with these literature candles. Seven different candles are paired with seven classics, including Alice's Adventures in Wonderland, Jane Eyre, Peter Pan, and War and Peace. It'll smell like your re-reading the book all over again with these.
Desart Metal Dog Bookends
If you know a book lover who's also a dog lover, they'll love this gift. These heavy-duty bookends promise to handle any size book with their prolonged bases. It's a gift for a literary lover of any age and will keep more than just books organized.
FortuneJars To Be Read Jar with Paper Stars
It's simple: Enter 100 book titles and get back a glass jar filled with folded stars with your given books. It's a fun way to find your next book to read. And not all of the stars have to be books. You can also put positive messages or literary quotes in each little origami piece of paper. Both kids and adults will enjoy this endearing present.
Crisp Pages and Co. YA Blind Date With A Book Package
If you know someone who hates choosing a new book to read, put their mind at ease. This Etsy gift is a mystery YA book packaged so there's no guessing what's inside. The seller will even let you link to someone's GoodReads for an idea of the kind of books they like, and to make sure their pick isn't something your friend has already read.
Culture Package Book Art Print
This poster looks so good, you might just want one for yourself. It even features a short summary of the book, so when friends come over and read over the text, they'll want to get a copy of the book too. The seller also offers posters of The Great Gatsby, The Stranger, and Brave New World. 
Amazon Basics Modern 5-Tier Ladder
Your friend probably has enough books. So why not give them a new way to store them? This Amazon bookshelf is sleek and simple but has a cool ladder look. They'll be able to organize their books by color, alphabetical, or any way they like in no time!
Colour Me Fun Book Lovers Pinback Button Badge
With this book pin, you can show off your reading habit everywhere you go. Put it on a backpack, a jacket, or any other accessory. The pins include a variety of nerdy book-related one-liners (like "Librarian: The Original Search Engine") and are affordable enough to get multiple. Anyone who spies one of these fun pins may even get the urge to open a book themselves.
Acrimet Premium Metal Bookends
For simple bookends with a pop of color, these are perfect. These are heavy-duty and made from metal, so you can be assured no books, vinyls or anything else you want to store will fall with these bad boys. If you want a color other than purple, the bookends also come in a bright yellow and green.
The PPC Company Blackout Book
If they love reading the written word, maybe they'll like writing it too. This notebook is one-of-a-kind. Instead of regular white pages, its pages are black. Get your friend a vibrant colored pen and they'll enjoy this new way of getting their thoughts down. And who knows? If they're planning to write a book of their own one day, a creative gift like this may have your name in their acknowledgments.
Benjamin Dreyer STET! Dreyer's English
Readers will love this grammar game. Here's how you play: gather your friends, take one of the 100 cards and read the given sentence. The first person to guess what the problem is, or if there's nothing wrong (you get to yell STET!) wins the card. The person with the most cards at the end wins. Alternatively, you can also play by voting on who makes the given sentence even better like in an Apples to Apples way.  
Chanelle Novosey Natural Soy Scented Candle
Not every candle has to be book-themed. These nice-smelling candles from the Black-owned Etsy shop are exactly what a reader needs to relax after a long day. The seller has other scents including Meditation, lemongrass, lavender, and more. They'll make your house smell nice and get you in the mood to crack open a book.
The Trini Gee Black People Art Tote Bag
This artsy tote bag is all about people doing outdoor activities. In our opinion, reading outside counts too. Get someone a bag to keep their books secure while they're out and about. They'll thank you, and maybe even gift you a book in return. It's also a great way to support a Black-owned business.
Noire Pack Coffee Roasters Sample Box
So the reader you know doesn't like tea? No problem. Get them a coffee sampler box from this Black-owned business so they can enjoy a steaming cup of joe while reading their favorite book. The blends are from a variety of countries including Colombia, Mexico, and feature three distinct flavors. You're bound to find your new favorite coffee with one of these three samplers.
The Crafty Swirl Hanging Two Tone Shelf
Rather than a traditional bookshelf, your reader may like something more modern to hold their books. This hanging shelf is two-toned, with one side white and the other a stain of your choice. It also comes with a small hole to keep a plant alongside books. You can also choose what cord you'd like to make the wood hang from. There's enough options to match any home aesthetic.
Mmmm by C Springer Ujamaa Generosity Throw Blanket
Nothing screams comfort quite like a warm throw blanket. Your favorite readers will truly enjoy wrapping themselves up in this soft 100% polyester blanket from this Black-owned business. Imagine it: a chilly, rainy day with a good book and an even better blanket. Plus, it's machine washable, so it's easy to keep clean. 
Althea's Pottery Handmade Mugs
Gifts with a personal touch give that little extra something a person appreciates. These handmade ceramic mugs from Etsy are dishwasher- and microwave-safe. Whether your reader's drink of choice is coffee, tea, or something completely different, they'll love knowing their mug was made just for them. 
Yking Sprout Little Green Bookmarks
For a book lover with a green thumb, these sprout bookmarks are an adorable way to meld their two hobbies. This affordable gift comes in a pack of 8 and are soft and flexible. Plus, they're way more interesting than simple paper bookmarks and you'll probably never lose something as intriguing as a little green plant coming out of your book.
Bevvee Totally Booked Pint Glass
You don't like tea, coffee, or wine? There's a book-themed pint for you. That's right, enjoy your favorite IPA, ale or cider in this pint glass. It's dishwasher safe and its decal is etched on, so it won't chip away like a printed one. It's an affordable but quality glass that'll be more than just a glass you use for reading, but for every day.
Curious Charts Commission Literary Insults Gift Poster
Know someone who laughs raucously at Shakespeare's insults? This is the poster for them. Featuring numerous classic books and their best lines, this gift will give your reading friend a new way to taunt everyone they know. It also has various categories so it's easy to find an insult for the perfect situation. Your friend will love it (although chances are you might come to regret it).
NASHARIA Wooden Book Light
Talk about a cool night light. This book light charges for two hours and then lasts for up to 8. It can switch to various colors including red, white, yellow and blue. Plus, its warm yellow lighting is great for getting to sleep without a bright light keeping you up. And of course, there's the coolest part: reading a book while using a light shaped like a book!
Inkstone William Shakespeare Engraved Inspirational Quote Pen
For book lovers who also want to write, this Shakespeare pen is ideal for manifesting some serious inspiration and creativity. It features the quote, "To thine own self be true." Plus, it's easily refillable so there's no need to throw it out once the ink dries up. 
This content is created and maintained by a third party, and imported onto this page to help users provide their email addresses. You may be able to find more information about this and similar content at piano.io